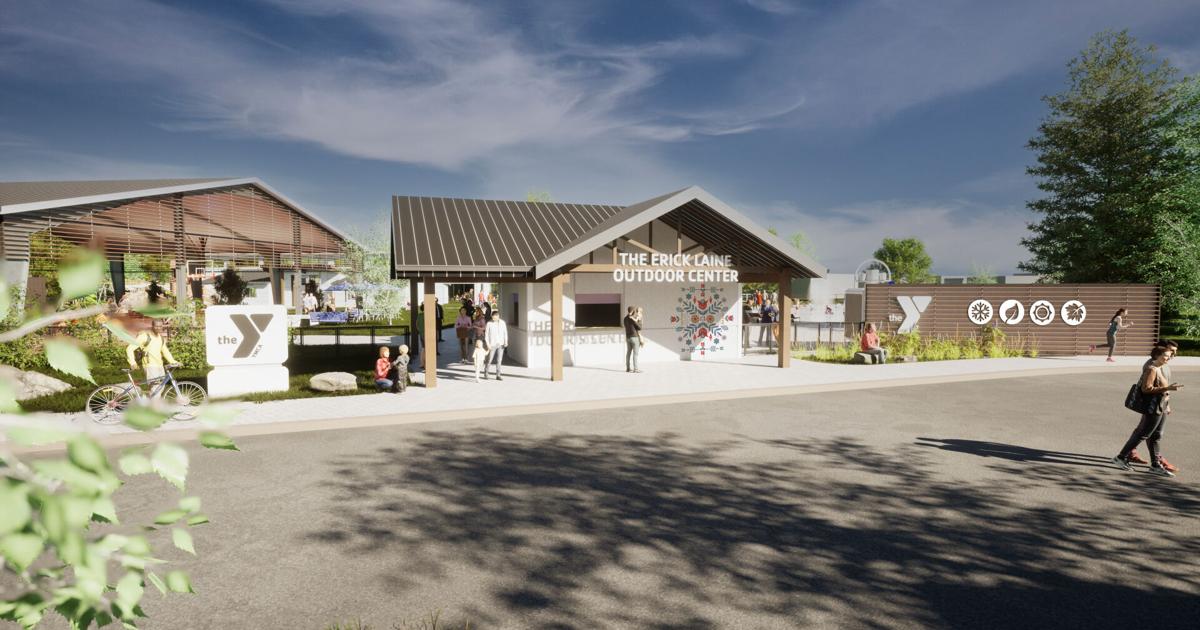 YMCA plans Laine tribute project | News
OLEAN – YMCA Olean plans to build the new Erick Laine Outdoor Center, which will expand the Y property's footprint on Wayne Street and is scheduled to open in June 2023.
The centre, which is estimated to cost $4.5 million – a figure that includes scheduled maintenance – will include five outdoor venues: an airnasium, a water park that converts into a winter playground, a games, fire pit, visitor center and public baths.
The Y commissioned Gro Development, an architectural firm specializing in YMCA properties, to develop conceptual and architectural designs for an outdoor space that could be multifunctional and could be used every day, regardless of the weather.
Barb Sweitzer, CEO of the Twin Tiers YMCA, said a house next door will have been purchased to expand the Y property towards Reed Street – and make room for the project.
Laine, the former President, CEO and Chairman of Cutco Corporation and community philanthropist, left a legacy to the Y. The YMCA Board of Directors formed a task force to explore the best ways to use the funds in a way that would honor Laine and her love for the Olean community.
"Through a process of remembering Erick and talking about his passions, the task force quickly formed the concept of an outdoor center that would celebrate the four seasons with activities for all ages and all ages. capabilities," said Mike Hendrix, chairman of the YMCA board. "We are thrilled to imagine how much Erick would love how the young people and families of Olean would benefit from his generosity."
Skip Wilday, campaign chairman, said Laine has left an indelible mark on the Olean community during his four decades at Olean, supporting many people and organizations in efforts both large and small.
"He had the rare virtue of being an optimist," Wilday said of Laine. "He believed in people and gave them opportunities. He was passionate about making Olean a great place to live and work.
Wilday noted that much of the Laine family get-togethers took place outdoors.
"No matter the season—winter, summer, spring, or fall…we played in the water, skated on the ice, sat around fire pits and shared each other's company. The YMCA Outdoor Center's water park, winter park, airnasium, playground, fire pit and green spaces are a perfect expression of Erick's passion for the outdoors and his love for the outdoors. Olean community.
Designed to be flexible
Sweitzer said the project is designed to be flexible to move through the seasons and to be "transformative" for those who benefit from participation.
"The Erick Laine Center will be used every day, rain, snow, cool or hot," she said. "It will really allow people to embrace the outdoors and celebrate the four seasons."
She explained that an airnasium is an outdoor but covered gymnasium which will have "endless program functions throughout the year", including large group gatherings, theater productions, youth sports , pickle ball, senior exercise programs and group exercises.
Sweitzer said the water park will have multiple spray features with surrounding seating for families. The space will then turn to ice in cold weather and will host ice skating, curling, winter activities such as snowman building and ice sculptures.
The entire outdoor center will be fenced off for added security.
"We envision year-round activities celebrating the changing seasons and embracing the climate of Western New York," Sweitzer said. "The airnasium will allow for year-round activities, rain or shine. I can see families and friends gathering around the fire pit to tell stories and create memories.
Open to everyone
The center will be open to the community and will not require YMCA membership. Daily pass fees, season passes and YMCA membership will support daily operations.
Y officials noted that no one is turned away due to inability to pay and has an "aggressive" financial assistance package to help community members participate in its programs. This is supported by the YMCA's annual support campaign, which is ongoing.
"It will be a community center for all ages, incomes and abilities," Hendrix said. "This is a gift from Erick to the community and the YMCA is proud to honor Erick with an impactful community asset that will remind generations of his generosity and love for the Olean community."
Jim Stitt Sr., president of Cutco and friend and partner of Laine for more than 30 years, noted that Laine was sent to Olean by Alcoa in July 1977 with the task of quickly fixing the troubled subsidiary or closing it.
"Erick fell in love with Cutco, Marianne and the wonderful people and surroundings of Olean early on," Stitt said. "Erick grew up in Wisconsin and found Olean felt right at home. Skiing, speed skating, swimming and anything that enjoys the outdoors. Well, he got Cutco right and increased the employment of nearly 10 times and pledged to keep Cutco in Olean and grow.
Laine knew that for Cutco to grow and prosper, the community must grow and prosper to make Olean a better place to live and work, Stitt said.
"The Erick Laine Outdoor Center is the true legacy of Erick's Olean," Stitt continued. "Cutco is proud to be a big supporter of this project."
Fundraising effort
The projected cost of $4.5 million will include construction, contingencies and the establishment of a fund to support ongoing maintenance repairs.
Seed capital from the Erick Laine Estate, support from local foundations and a public fundraising effort will fully fund the project.
A fundraising campaign has started quietly and a public campaign will soon be launched. Wilday and Ron Cecchi will serve as campaign co-chairs.
"With the generous support of Erick Laine and the Cutco Foundation, we are off to a great start to achieve our goal. The generosity of the large Olean community and friends of the YMCA and with the support of private foundations will position the Y to fully fund the project and avoid any debt," Wilday said. "This will ensure that the (centre) will be a community asset and can sustain itself for people to enjoy for decades to come."
Cecchi, who helped build the new Y 17 years ago, said the Y has the experience and infrastructure to successfully complete and maintain this type of facility.
"(The center) not only embodies Erick's passions, but it also aligns with the YMCA's mission to strengthen the community through youth development, healthy living and social responsibility," he said. he declares.