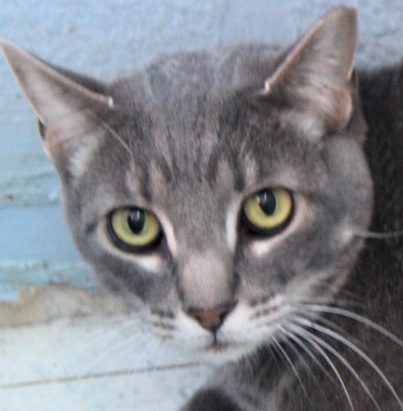 Wow! The bark in the park was swell
Mousie is an adorable two year old gray striped tabby cat with beautiful green eyes. She came to CAPS from a household of 11 cats after her death. Originally it was a wildcat, which we know because its left ear is tilted. She is very shy but has befriended her boyfriend BamBam. She will need patience and love to win her over. Are you the soul mate she is looking for?
Watson here, and we celebrated another successful Bark in the Park last Saturday. It was wonderful! Thank you to all the community members who came with their best friends for the 5K walk/run. I am especially grateful to all my furry friends who accompanied them.
I may be as old as dirt, but I may have hobbled a bit. And guess who received a Medal of Honor. However, my parents are another story; talk about slowness. Anyway, we had a great time meeting and greeting everyone.
It is always a pleasure to witness the connection between the person, the dog and the community. Everyone here loves dogs and cares about animal welfare. They show it through the commitment they make to their pets and the animal community.

Speaking of commitment, we would like to thank the following companies for sponsoring our event: Bassham Furniture, Camacho Auto Sales, CC Communications, Fallon Welding, Family Pet Connection, Hoof Beats Gates & Corrals, Lahontan Valley Veterinary Clinic, Ott's Farm Equipment , Sanford Ranch, Speedway Market, Three Happy Hounds and Torvik Veterinary Services.
As always, Bark in the Park expands the horizons of what's available for pet care. I had a great bath and a peppermint scent. Of course, CAPS would not be possible without the volunteers, community support, kennel workers and our directors. We salute people who are willing to volunteer their time, resources, and effort to help maintain our kill shelter.
Know that anything you can do or have done to help CAPS is a step in the right direction. To quote Mahatma Gandhi, "The greatness of a nation can be judged by the way its animals are treated." Bark in the Park proves that we don't just talk, we literally walk.
XOXO
Watson

NEEDS
Friskies wet cat food and any dry cat food except Meow Mix.
People to donate to the Rotarian fundraiser. You can contribute by contacting Withers at [email protected] or Young at [email protected]
Aluminum cans. If you have cans to pick up, call us (775-423-7500) and we'll pick them up. You can also drop them off at CAPS.

CRY AT
The many volunteers who graciously gave of their time. Doggie kisses!
To the following people who donated items for our raffle:
Cheryl Dobson, Donna March, Family Pet Connection, 3 Happy Hounds, Janis Woods, Kyle Dugan, Leona Quiliei, Linda Martinez, Mask Glow, Melinda Clifford, No Filter Fitness, Rita Hand, Scentsy Sisters, Telegraph Coffee, Tin Can Crafts, Trash at Treasure, Western Nevada Veterinary Clinic.
To the following merchants who have set up kiosks: Aether Essentials, Altamont-Janene Zwicki, American Yeti, Bodacious Beads, CC Communications, Chicago Dogs, Ciera's Paw Print Art, Desert Grown Gourds-Margery McConaghy, Family Pet Connection, 3 Happy Hounds, Scentsy , Handmade gifts from Tammy, Tie Dye-Cheryl Dobson, Tin Can Crafts-Brenda Wright.
COME SEE US
CAPS is now open. We suggest appointments for adoptions, SNAPS and pantry. We need volunteers. Call 775-423-7500.

DO NOT FORGET
May Holiday: Canine Anxiety Awareness Week May 9-14.
Sign up for the AmazonSmile program, a website operated by Amazon. Customers get the same product selection, low prices, and shopping features as on Amazon.com. The only difference is that when you make purchases on AmazonSmile (smile.amazon.com), the AmazonSmile Foundation will donate 0.5% of the price of qualifying purchases to the charity you selected.
The mailing address for CAPS is PO Box 5128, Fallon, NV 89407. The phone number for CAPS is 775-423-7500. The CAPS email address is [email protected] Please visit the CAPS website (www.capsnevada.com) and Facebook page (Churchill Animal Protection Society). Be sure to "Like" CAPS on Facebook because we're friendly.
CAPS is open to the public on Tuesday, Wednesday, Friday and Saturday from 10 a.m. to 2 p.m.
Kathleen Williams-Miller is a CAPS volunteer. Contact me at [email protected]