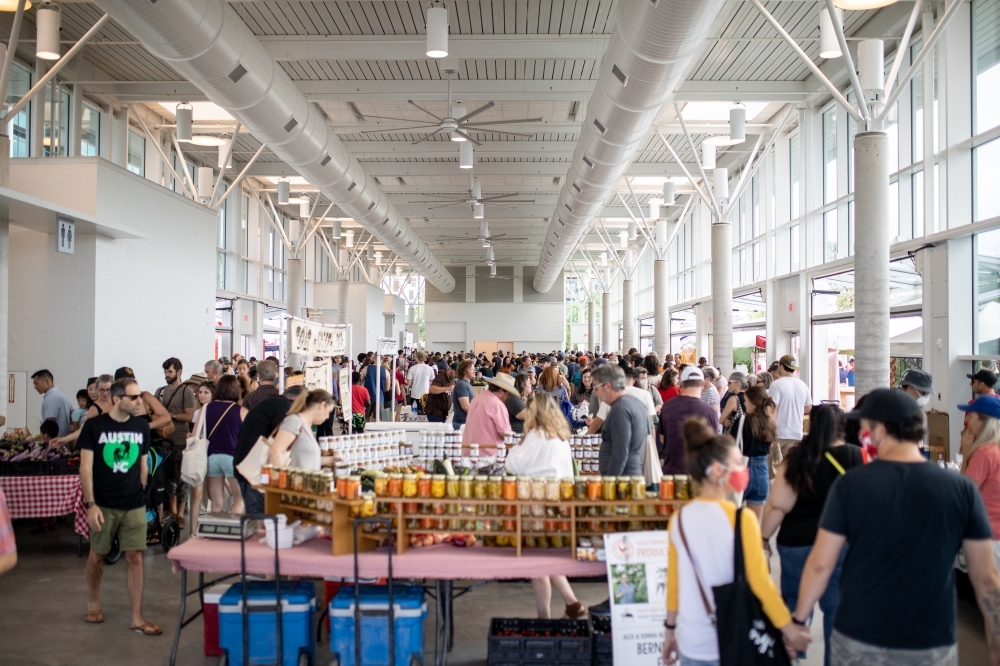 Texas Farmers Market in Mueller marks launch of new pavilion at Mary Elizabeth Branch Park
The new pavilion at Mary Elizabeth Branch Park includes over 19,800 square feet of space for market vendors and visitors. (Courtesy of Texas Farmer's Market)
The Texas Farmers Market in Mueller marked the launch of its new market location on June 27 in the new pavilion at Mary Elizabeth Branch Park.
The park and pavilion, located at 2006 Philomena St., Austin, will now host the local farmers market every Sunday from 10 a.m. to 2 p.m. following its move from Browning Hangar. The new market house on Philomena and Aldrich streets allows for a combination of an indoor and outdoor market environment; the nearly 20,000 square foot glass-walled pavilion can accommodate dozens of tents and cabins with ceiling fans, garage-style doors, and heating and cooling systems to accommodate varying weather conditions.
"We are delighted that our Farmers' Market is taking this next step to support the Central Texas farming community as Austin grows," Nena Johnson, executive director of the market, said in a statement. "The opening of this new permanent pavilion provides our 120[-plus] vendors a much more modern and functional facility where customers can also have a great family experience shopping at the market while enjoying the park and water feature next door and local businesses along Aldrich Street. The new pavilion offers an open concept with flooring and park equipment.
The inaugural event at the new site was commemorated on June 27 with a groundbreaking ceremony, raffle and a full indoor-outdoor market at the pavilion. In addition to the Mueller location, the Texas Farmers' Market also hosts a weekly Saturday market at 11200 Lakeline Mall Drive, Cedar Park. 512-953-7959. www.texasfarmersmarket.org