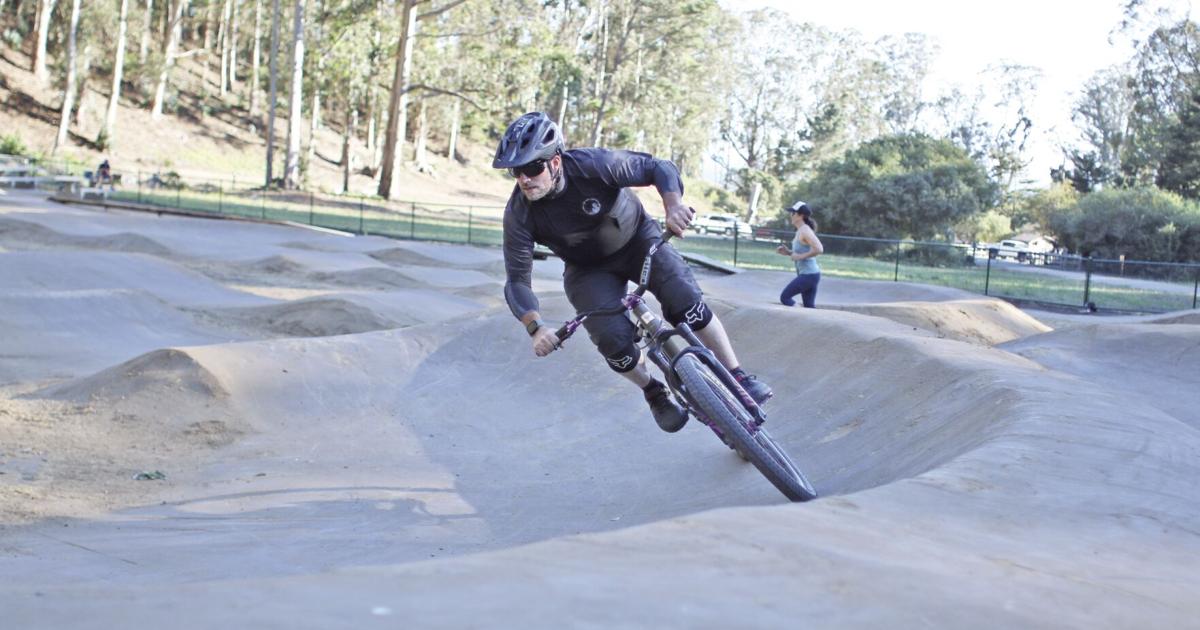 Quarry Park's new pump track in El Granada is a success | Local News
After decades of community-led efforts, a new mountain bike course and pump track opened last month in Quarry Park in El Granada.
The track represents a victory for the local mountain biking community, which has long struggled to gain legal places to ride on the coast.
With three routes, the flowing course with fast turns allows riders to "pump" for momentum. The track was designed to suit all skill levels and appealed to everyone, from those still on practice wheels to experienced riders taking to the air between features.
"It may not be X Games jumps, but it's a great start for our community," said Ric Barker, who runs Coastside Mountain Bikers, a nonprofit organization that has spearheaded efforts to establish Track. "It really opened up communications and goodwill between the mountain bike community and the parks department."
He said while efforts to build the track had been going on for years, things escalated in 2019 when a group of runners and parents, frustrated by the lack of progress, hand-built a similar track on a nearby land that had recently undergone a cleanup related to fire prevention. .
When the county came to raze the illegal course, the community protested, and a subsequent Midcoast Community Council meeting drew hundreds of people demanding a sanctioned track.
"Moms got in front of the bulldozers," Barker said. "As soon as we got mums and kids involved, we started to gain momentum."
The Grenada Community Services District contributed $100,000 to the new trail, Coastside Mountain Bikers raised $15,000, the San Mateo County Parks Foundation $11,000, and REI launched $6,000. The county made up the remainder of the $300,000 prize.
Barker said the project has helped bridge the rift between the park service and some local mountain bikers who build and maintain unauthorized trails on park land. San Mateo County Parks prohibits mountain biking on trails other than fire roads, he said, but in Quarry Park there are several miles of single-track trails exclusively for mountain biking. .
"There has always been a cyclical nature of jumping on the trails," he said. "People build jumps, jumps get big enough, authorities destroy them."
But he said he hoped that in the near future some of these trails, with their jumps, could become legally recognized, added to maps and assigned difficulty ratings. He said his group has monthly meetings with county parks to discuss the topic.
San Mateo County Parks Superintendent Nicholas Calderon said the department is working to sanction the trails, many of which were there before the county acquired the land in 2014. He said some will require modification for drainage or to meet other standards.
"The San Mateo County Parks Department recognizes that people recreate differently," he said. Quarry Park, he added, is the perfect place to incorporate mountain biking as a recreational activity.
Another pump track is expected to open in Menlo Park's Flood next year, he said. There is also a bike park, to include a pump track, in the works at Pacifica.
For the Quarry Park Track, it takes up about one acre in the 517-acre park. It also includes lounge areas and a bicycle repair station. Barker said the layout, formed from a mixture of hardened dirt, will likely evolve over time as runners learn what works and what doesn't.
Meanwhile, Pacifica resident Vaclav Batlik said he brings his son almost every day.
"It's a great place to come and get his energy, and it helps that he's excited to come here and do it, instead of just being on the iPad," he said. "Now he's doing push-ups and stuff, now I'm thinking about doing that too."
(650) 344-5200 ext. 105