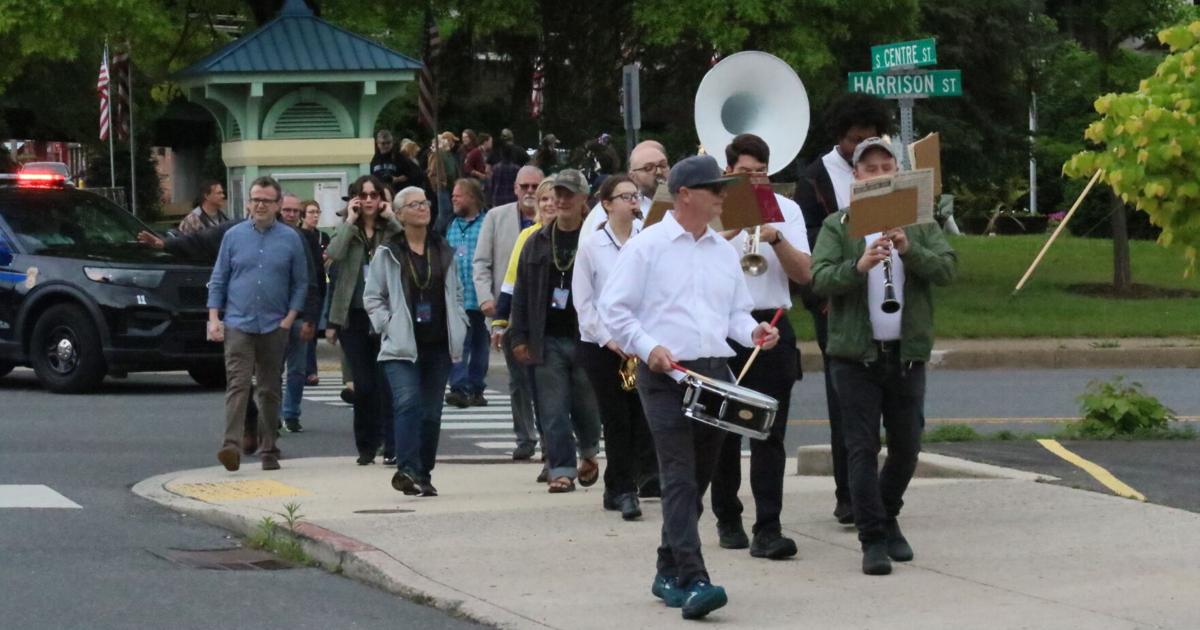 Pub March launches DelFest activities | News
CUMBERLAND, Md. — Area bluegrass fans joined a downtown New Orleans-style pub march Tuesday to celebrate the return of DelFest.
The popular music festival returns this week after being canceled for two years due to the coronavirus pandemic.
Del McCoury and his family sponsored Tuesday's event to thank local fans who have supported DelFest over the years. Held annually at the Allegany County Fairgrounds on Memorial Day weekend, the first DelFest was held in 2008.
The Pub March started at 4:30 p.m. at Veteran's Park on Center Street, then moved on to Mezzos, Niners, City Lights, the Baltimore Street Grill and ended at the Corner Tavern with a free Davisson Brothers concert.
"It's a great way to come together and celebrate DelFest here downtown," Cumberland Mayor Ray Morriss said to kick off the march. "Hopefully this is the first in a long line like this and that we can make this an annual event. Thanks to Del McCoury and his family for supporting this event and our downtown."
The march was led by a horn ensemble led by Larry Jackson, band director at Allegany High School.
Cumberland resident Darron Jones is an original member of Del's Army, the organization that has helped keep DelFest in Cumberland over the years. Jones drew winning tickets to each of the venues for a $50 facility gift card.
"It's the Cumberland Festival," Jones said. "I think it's a great idea. It's been three years since we had DelFest, so it's great to have it back.
"Hopefully in the future this can be a ceremonial way to kick off DelFest. We walk down the street from business to business. It's great fun and helps downtown."
Cumberland's Chris Rolins said: "I think the pub walk is a good idea. It helps businesses. Local bands can also be heard. It's a nice gesture, and I hope it continues."
Jody Mosser led a four-piece bluegrass band that performed at Niners for the event. It included Ray Bruckman, Byrne Klay and Alex Burman.
"Today we call it The DelVille Marching Bluegrass Band," Mosser said. "It's a trio plus one. We're happy to be here and support the idea. It's totally cool and we're having fun."
Jones also participates in a food drive every year at DelFest. All proceeds and donations go to the Western Maryland Food Bank.
"We are thrilled with this year," Jones said. "We think it will be over $3,000 this year. We have a tent at DelFest. We also sell t-shirts and everything goes to the food bank.
"I've known Del McCoury for many years. He's a lovely man…a lovely guy. He chose this place to host the festival, and we can't forget him. We love him."
For more information about DelFest, including ticket availability, visit DelFest.com.