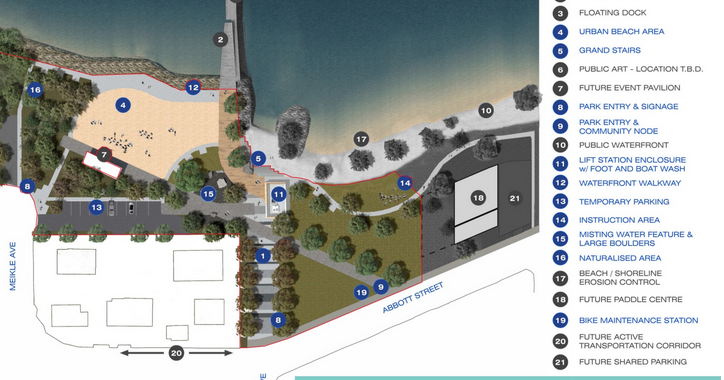 No Swimming or Toilets at Kelowna's Newest Waterfront Park | News
Swimming won't be very pleasant in Kelowna's newest lakeside park, and restrooms won't be available for years.
Although Pandosy Waterfront Park has a large sandy beach, the water itself is not inviting.
"The bay is both shallow and quite overgrown with weeds, so unsuitable for swimming or motorboating," said a city statement released Tuesday that marked the start of construction on the park.
Beachgoers who look askance at the water but still want to cool off can use a "misting park" adjacent to the beach, the city says.
Despite its limited appeal for swimming, the park – being developed at the corner of Abbott Street and Cedar Avenue in the South Pandosy neighborhood – is "well suited" as a hub for paddle sports, depending on the city.
The Kelowna Paddle Center is located on the property, and the area is popular due to its calm, shallow waters with paddleboarders and kayakers.
Other park amenities in the $3.85 million first phase of park construction, which is expected to be completed next spring, include a pedestrian boardwalk, naturalized area and waterfront walkway.
But there will be no toilets until a new paddle center is finally built by the non-profit company, within five years.
Other future features of the park include a public pier, floating dock, and event pavilion.
Originally slated for construction through 2027, the new park was accelerated once the city began collecting a new levy from developers specifically for building parks.
Previously, the only park-related fees charged to builders were for the purchase of land that would eventually be turned into parks, using other funds available to the city.
Some residents of the South Pandosy area have long called for the park to be built, noting that the city began purchasing waterfront properties in the area as they became available as early as the 1980s.