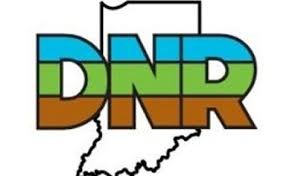 New trails open in Brown County State Park
On Friday, Indiana DNR, Next Level Trails, and the Hoosier Mountain Bike Association (HMBA) held the grand opening and dedication of the newly completed West Gate and Gnawbone Trails in Brown County State Park.
"Brown County State Park trails attract visitors from across the state and nation," said DNR Director Dan Bortner. "These two new trails will provide additional mountain biking opportunities for trail locals and tourists."
The trails were the last two of four new state park trails built through a $200,000 NLT grant awarded to HMBA in May 2019. The grant previously funded the Weed Patch and Limekiln East trails. In total, the grant helped fund the development of approximately 7.5 miles of new mountain bike trails to complement the renowned trail system. Grant-supported work also improved connectivity between existing trails and park facilities, including the campground, nature center, fire tower, and Hesitation Point.
The West Gate Trail, about a mile long and beginner-friendly, provides an essential connection between the Weed Patch, Bobcat, and Hesitation Point trails. The Gnawbone Trail, a 1.3 mile downhill-only trail, is accessible from the West Gate Trail. The Gnawbone Trail provides a smooth alternative to the Hobbs Hollow and Hesitation Point trails for intermediate and expert cyclists to gain more access to the park's 35+ mile mountain bike trail network.
As part of Gov. Eric J. Holcomb's Next Level Connections initiative, NLT is the largest infusion of trail funding in state history. The $150 million program is administered by the DNR and facilitates critical trail connections within and between Hoosier communities. Including this project, 11 of the 73 NLT projects have been completed, totaling 37.8 miles of trail.
Brown County State Park's mountain bike trails are multi-use and are open to hiking and running as well as biking. Cyclists must obtain a $5 per day or $20 per year off-road bike pass before using the park's mountain bike trails.
More information at on.IN.gov/BrownCountysp.