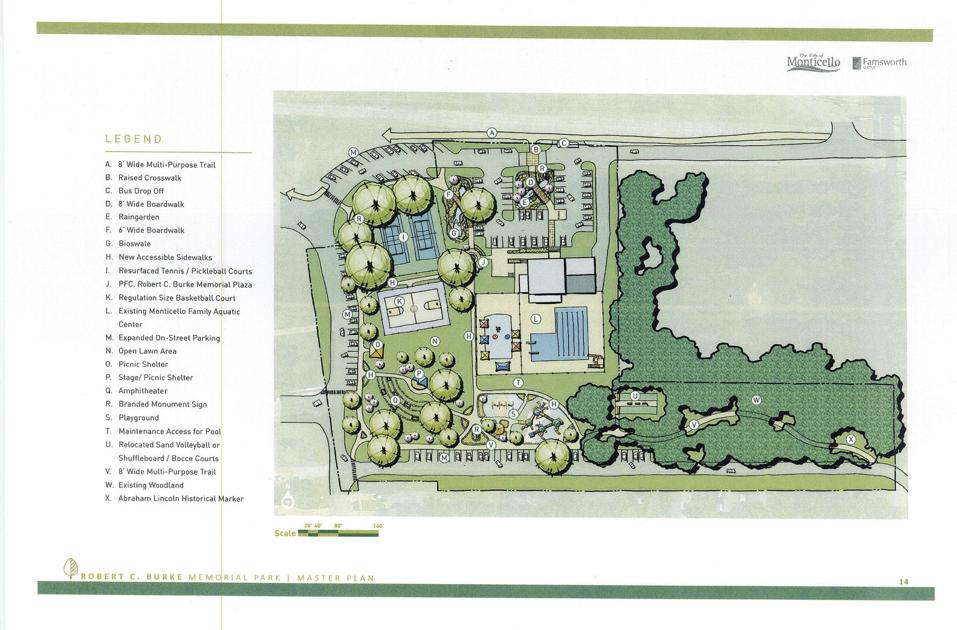 Monticello creates master plan for possible park renovations | Leisure parks
MONTICELLO – The Town of Monticello now has a master plan for a possible redevelopment of the Robert C. Burke Memorial Park.
If pursued, he will add a central memorial place dedicated to his namesake, a Vietnam veteran who died saving troops in combat and was the youngest recipient (18) of the Congressional Medal of Honor for this war.
"Currently, no area exists in the park as a memorial to the heroic life of PFC (Private First Class) Robert C. Burke," said an entry in the master plan compiled by the Farnsworth Group. "(This) provides a unique opportunity to create a lasting memorial to the legacy of PFC Robert C. Burke. "
Recommendations include a sculpture by PFC Burke, flag displays, information displays, native plantings, and limestone seating slabs. As proposed, the Memorial Square would be located between the park's tennis courts, swimming pool and basketball courts.
Other improvements outlined in the four phases of the plan include more on-street parking, an extension of the city's bicycle lanes, elevated boardwalks between some of the park's amenities, erosion control, native plants, a play structure and a small amphitheater.
"It's one of the only wooded places in town. Lots of people go there for lunch, "said Jeff Martin of Farnsworth Group at the August 23 city council meeting. "It's a nice little oasis in the city."
Burke's sister Marilyn Barnett said she and her brother spent a lot of time at the park growing up.
"Growing up, we used to go to this park a lot. There was a pavilion there. It wasn't very big, but there was a pavilion with picnic tables. We used to go there for birthdays and various other things. We went there and played on the swings and slide. So this park is really special to me.
The city is not obligated to carry out the work described in the plan, but does provide a guide for its development if it is undertaken.
"There are a lot of them there. You don't have to do everything. Here is a vision of the park. Now it's up to you to decide in the future which part you want to implement, "Miller said. "There are always tough decisions to be made, but we believe these vision books provide a good foundation for you to work on. "
Each phase is expected to last between one and a half to two years, with an estimated overall cost of around $ 3.4 million, according to estimates included in the master plan.
The phases would include:
Phase 1: New signs, improvements to parking and sidewalks, multi-use paths, drainage works, organic channel and walkway east of the tennis courts, rain garden, pedestrian crossing and bus disembarkation on Railroad Street and access reinforced for lawn maintenance at the swimming pool. Expected cost: $ 1,211,000.
Phase 2: Basketball court (extension to legal size), modernization of the tennis court, start on the commemorative square. Estimated cost: $ 418,500.
Phase 3: Playground, move sand volleyball or replace with a senior recreation of pétanque or shuffleboard. Expected cost: $ 1,491,500.
Phase 4: amphitheater / shelter ("The Hangout), landscaping, equipment improvements. Expected cost: $ 318,900.
City council member Ashley Muse asked if there were any grants available for park projects. Emily Jenkins of Farnsworth Group said there are, but none are guaranteed.
"There are OSLAD grants for parks and recreation expansion. There is a green infrastructure grant for the organic channel and gardens. There is a cycle path for the network of trails. So there are different things you can do to help mitigate the costs, "Jenkins said.
History of the park
Research by the Farnsworth Group showed that the 5.87-acre area had been turned into a city park since at least 1875 and had served as such before that date.
On July 29, 1858, Abraham Lincoln delivered a speech in what is today the south-eastern panhandle of the park. A marker commemorates this event.
It was officially named Robert C. Burke Memorial Park in October 1981.
In the late 1960s, a swimming pool was built in the park, which was replaced by the current Monticello Family Aquatic Center in 2010.