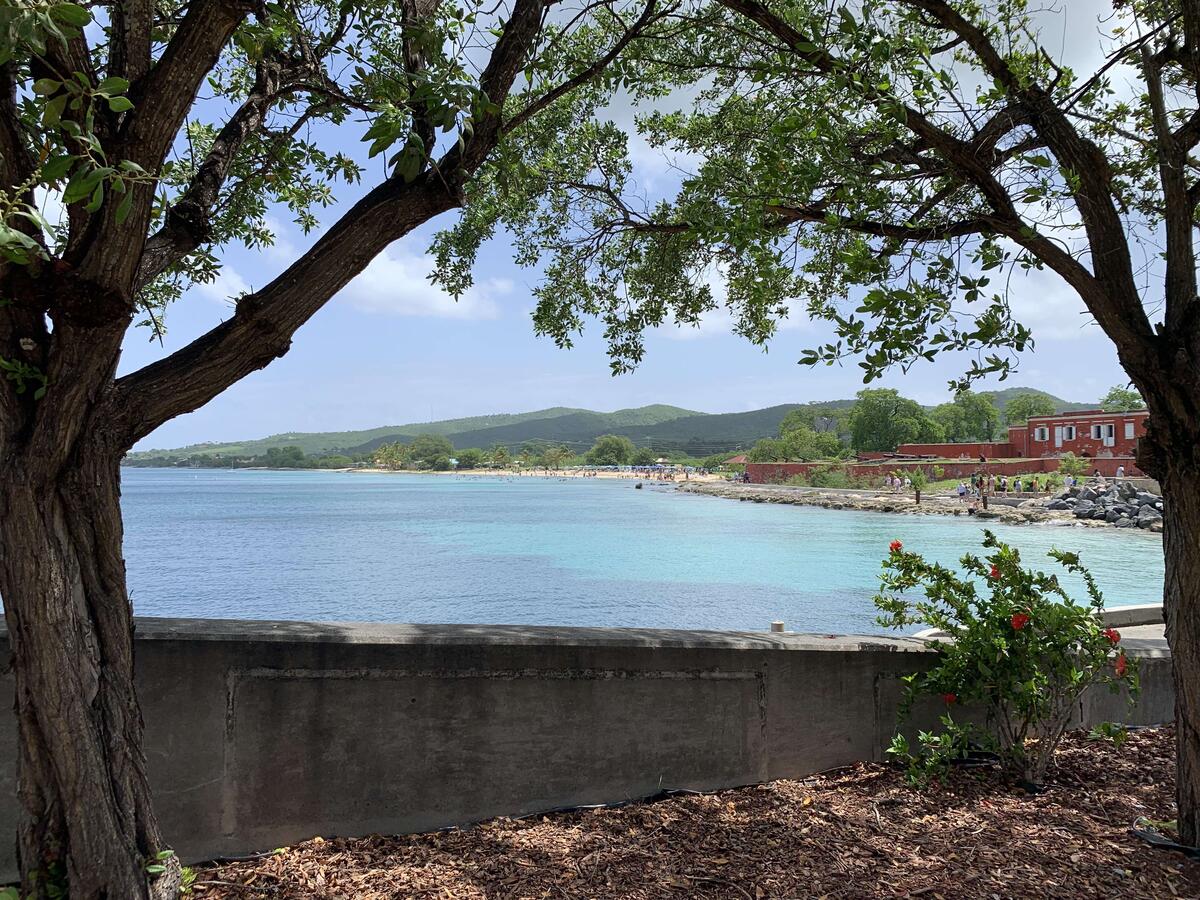 Mariner of the Seas Live Blog – Day 6 – St. Croix
Today's port of call was St. Croix in the US Virgin Islands. The ship arrived at 7:00 a.m. and had a scheduled departure at 12:30 p.m.
Knowing that we didn't have much time in port today, Patty and I decided to wake up earlier than usual and head to the Windjammer for a quick breakfast. I had my habit while Patty changed it up with yogurt and cookies with gravy.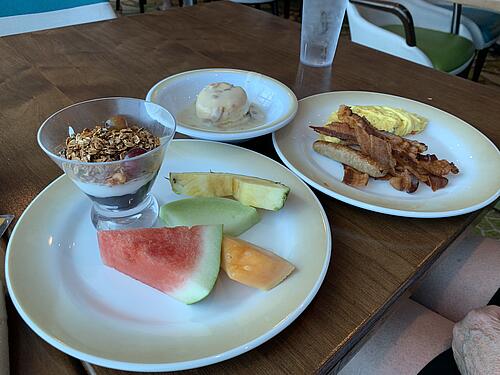 Once we soaped up with sunscreen we wanted to get off and take a walk around the harbor which seemed to be the common theme with other cruisers. While staying at the Windjammer we could see a beach nearby so we wanted to stop there first.
As we left the ship and entered the harbor, I could hear music in the distance. It's nothing too unusual, but as we got closer I noticed it was just a man playing music from loudspeakers and not real musicians. I thought that was interesting, but hey, it was a hot day to be outside and do some shows.
Last time I was here was January 2015. The harbor was exactly as I remembered. We hadn't been to the beach so didn't know how to get there. However, it was quite easy to find, as it was just around the corner from the main square.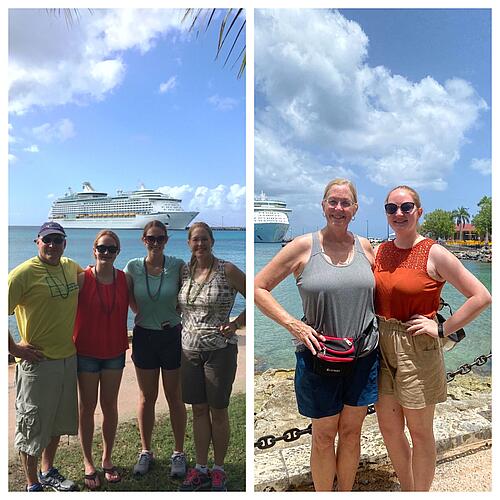 Frederiksted Beach was conveniently located less than a 10 minute walk from the harbour. There were lounge chairs and umbrellas all around. It was busy today and many families were enjoying the ocean and sunbathing. We also came across a perfect photo opportunity with Mariner in the background so we had to take some pictures!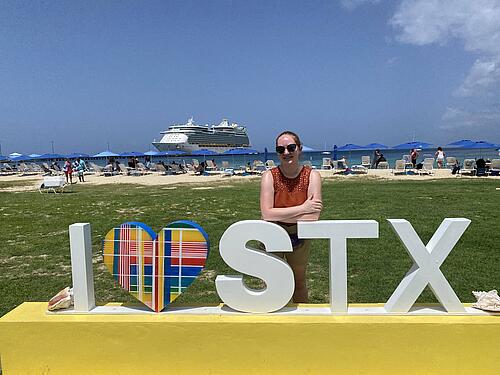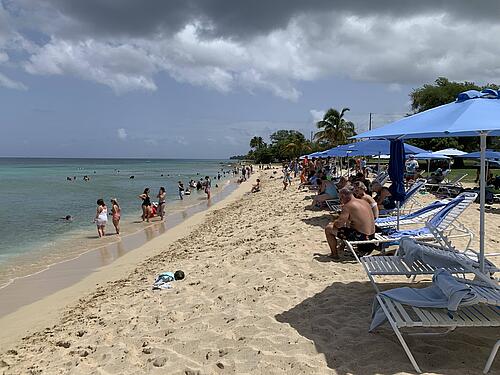 We wanted to see some of the shops so headed back to the main square. Another person had their computer plugged in and was playing music for everyone to hear. There were the typical pop-up shops here, such as t-shirts, jewelry, local art, and other trinkets.
As we walked a little further, I noticed a small group of people gathered around an enclosure. Upon closer inspection, I noticed four little puppies. They were so cute and loved by everyone who saw them (including me).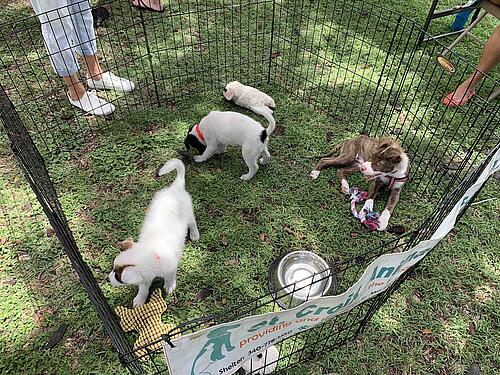 They were from the St. Croix Animal Welfare Center: "to provide and promote the humane treatment of animals in our community." The last time I was in Sainte-Croix, the same organization was there with puppies. One of the workers told me their race was unknown, but they were a few months old.
After taking a few more photos and enjoying the scenery, Patty and I were ready to head to the ship and freshen up. It was 90 degrees and humid. We were in the sun a lot yesterday so we were burnt and didn't want to get burned any more.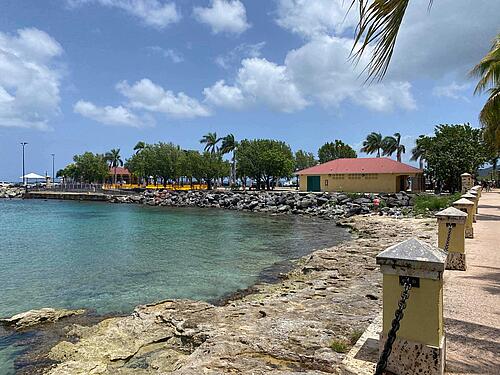 We wanted to try lunch from the main dining room on board so we did as soon as we got back. We were seated right away, and next to the window which I liked. Since my mom's phone wasn't working, they were able to give her a physical menu for lunch while I watched on my phone.
I ordered the mozzarella sticks for an appetizer while Patty had the Manhattan clam chowder and insalata caprese. For main meal I had the chicken sandwich and Patty had the salmon. Finally, I had the floating island, which was meringue in a vanilla cream sauce with caramelized sugar on top. Overall we enjoyed the lunch and the service. We also had a nice chat with a couple sitting next to us.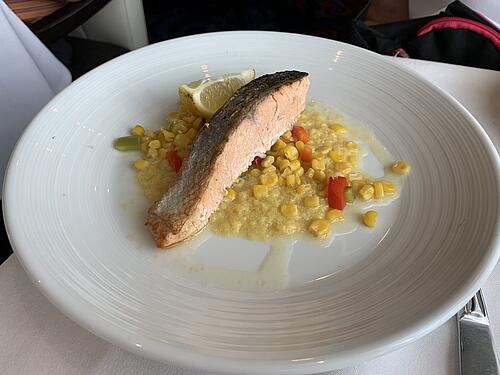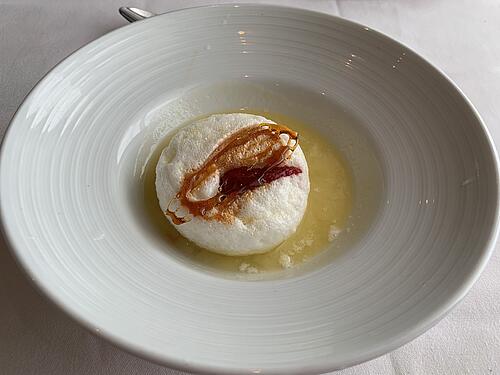 As soon as we finished lunch, the ship was leaving Sainte-Croix, so we watched the sail away from deck 4.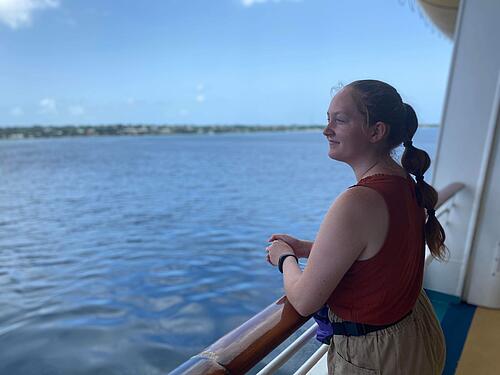 Patty had been sleepy since the night before and took a nap. She told me how she woke up last night to choppy waters, so she didn't sleep as well as she would have liked. Luckily I slept through!
While Patty was taking a nap, I wanted to do some work, so I tried to find a place to sit with my computer. I wasn't sure where to go, but as soon as I saw Starbucks I knew it would be a good place to go. There were seats all around, even behind the counter, so it was easy to find a quiet spot.
The on-board Wi-Fi was quite good this navigation. There are times when it's slow, but it works most of the time. I had a few minor issues with the Surf & Stream but was able to do my job.
We hadn't been to the Diamond Lounge yet so wanted to stop by before our 5:30 dinner. The lounge was quite full (but that's not saying much as it's small to begin with) but we had no problem getting small appetizers and our drink order. I had the chocolate martini and Patty tried a mango mojito – both were very tasty choices. In fact, I loved my mother more than mine!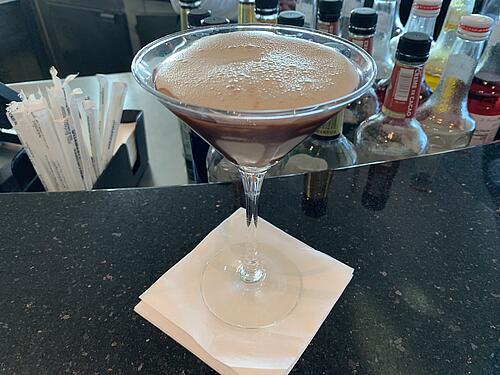 In the main dining room, I started with the baked potato soup while Patty had the seafood puff pastry and snails (she orders it every night). For main I had the lasagne al forno and she had the beef stroganoff. Our waitress, Carol, warned us that it had pickles in it and was therefore not as popular, but Patty wanted to try it anyway. We appreciate his honesty when trying to decide what we want!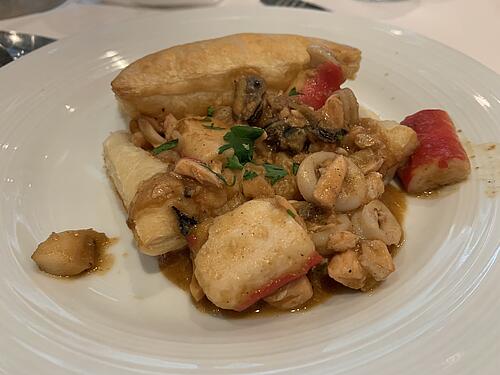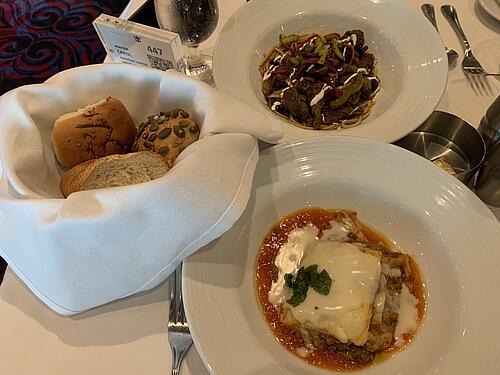 For dessert I had the English trifle and Patty had the coconut cake. We were very pleased with our meal and the friendly service.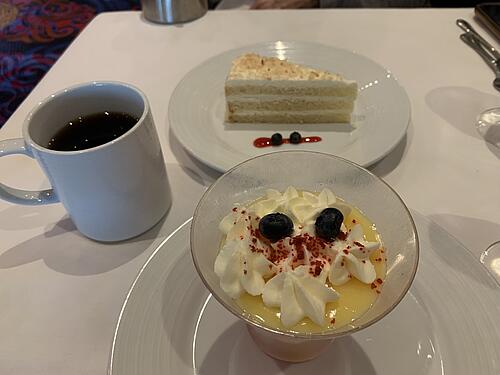 We had just enough time to get to the 7:00 p.m. show: The magic of the puck. We arrived 20 minutes early so got good seats in the downstairs aisle. The show was packed so I was glad we got there when we did. Puck was in the seventh season of America's Got Talent, so I knew he wouldn't disappoint. He did a great job with his tips and audience engagement.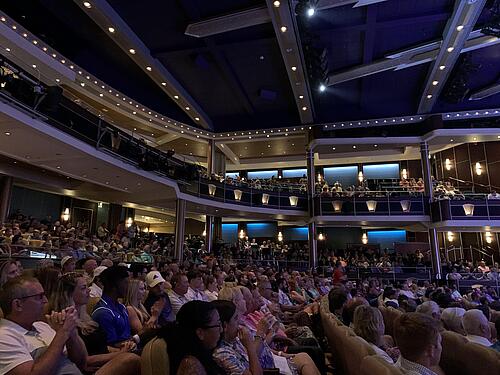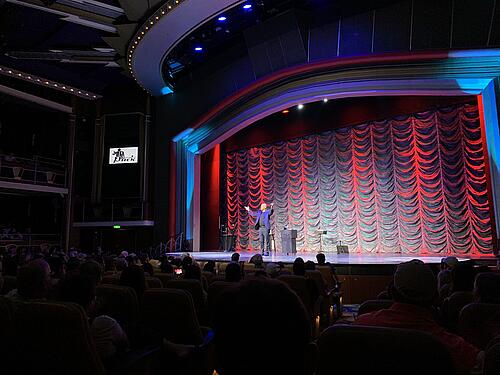 The night was still young and there were two game shows I wanted to watch: The Perfect Couple and The Liars Club. They were both in the Star Lounge back to back.
I wasn't sure what to expect from The Perfect Couple – I thought it might replace Love & Marriage. I would be disappointed if they got rid of Love & Marriage as it is my favorite show on Royal Caribbean cruises! Once I was on the game show, I quickly remembered that it was different.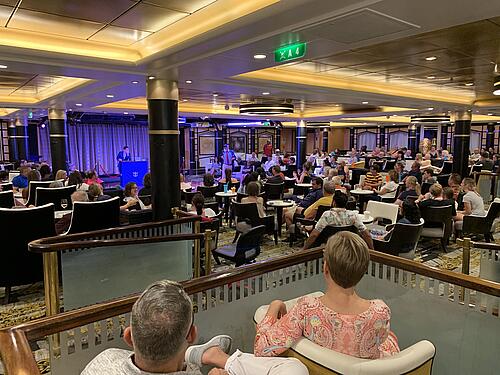 Three couples participated in three challenges to see which couple was the most compatible. I was supporting the older couple, and they ended up winning!
I had to wait about 20 minutes for the next game show so I stayed in my seat as it was still busy. I wonder if they should have these game shows at the Royal Theater as they seem to be popular and we are sailing at full capacity.
The Liars Club is where three employees try to convince the public that they know the definition of strange words. For example, the first word was "slangwhanger". The three employees gave various descriptions (a happy trigger, a shy and quiet child, or a loud and obnoxious loudspeaker), and then the audience voted for who they thought was telling the truth. It was a fun time and lots of laughs were had.
Tomorrow we will be at sea before arriving at CocoCay!