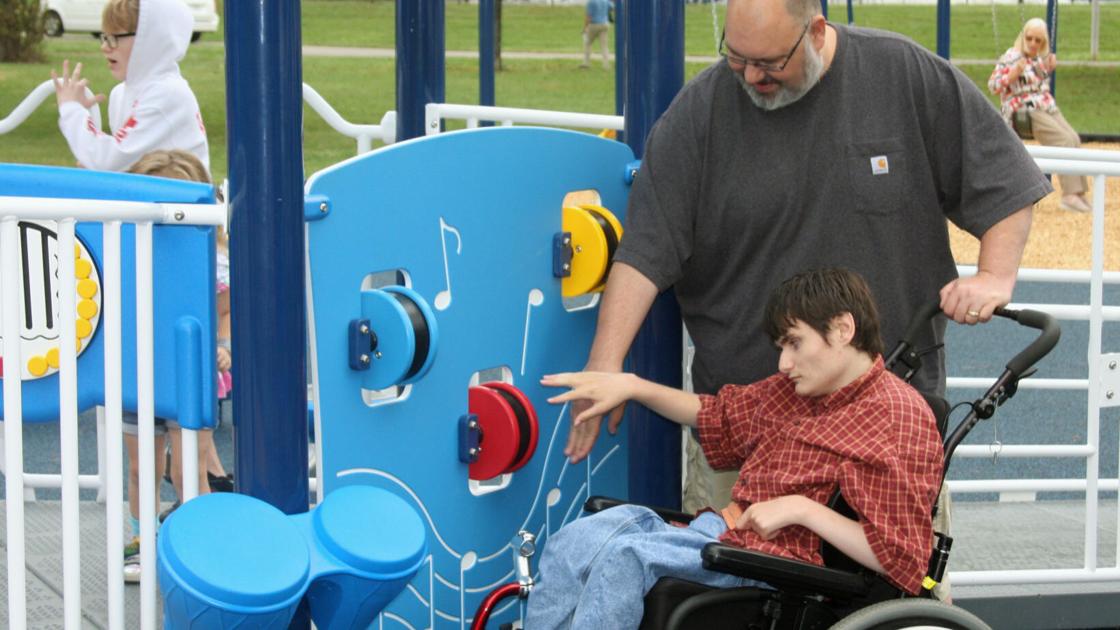 John Sevier Park Inclusive Playground officially opens, raises the bar for accessibility in Maryville | New
It's been about six years since the Bonomo family moved to the area, but Tuesday morning was a first for them.
Moments after the Blount Inclusive Playground officially opened at John Sevier Park with a ribbon cut, Cory Bonomo's dad, Michael, pulled him out of his wheelchair and into a swing with a seat harness.
"When we first got here there weren't a lot of activities Cory could engage in," her mother Melissa Bonomo said as her husband pushed 18-year-old Cory.
The park changes that. "It makes them more socially acceptable and seen as people. And that gives him a place to play with his brother where he's limited, "Melissa said.
Bonomo's 10-year-old son Christopher stayed there, disappointed that he came a few moments too late to see the ribbon cut, but ready to use the playground.
"I think it's pretty cool," he said of the blue and white park before running off to explore it on his own.
Meanwhile, Cory Bonomo and his father got their hands on some of the full-scale xylophones built into the playground.
Several other people using wheelchairs as well as a group of enthusiastic elementary students from John Sevier climbed the structure before returning to the morning class.
The playground is the first of its kind in Maryville – it includes all levels and ages with soft pavement and ramps. It was invented about three years ago by Kathy McGee, who is part of the human rights group The Arc of the Great Smokies, a local chapter of The Arc.
But it took a lot of backers to make it happen, especially given the ups and downs of COVID-19.
The Maryville Lions Club was the primary fundraising engine for the project; Maryville-Alcoa-Blount County Parks and Recreation will manage and maintain the playground. Donors like the Arconic Foundation and West Chevrolet were also critical, officials said. These and others are honored on a plaque outside the playing field.
While the co-op pulled the project off, McGee's story is about finding the kind of place she didn't have when her now-adult son Jonathan was a child.
Today he may have aged with some equipment, but "he loves the musical aspect," his mother told the crowd. "If you haven't had a chance to hear them, there are some nice chimes here."
This is the first project of its kind McGee tackles and it took some stamina. "We just didn't give up," she said in an interview after the inauguration, noting that the cushioning effect of COVID couldn't prevent her passion project from coming to fruition.
Now his eyes are on the future. In its current form, the playground is only phase 1 of a larger project. Organizers hope to add two more phases if resources allow.
People who want to see this happen can visit first and foremost, McGee said. "First of all, bring your children and grandchildren and the neighbors' children," she said. "And then make a donation. "
Look to your business or company and see if it has a foundation or an interest in investing in its community, she added.
"We need more people to get excited now that it's really happened," she said. "We have something to show, and now we want to go further. "
Organizers didn't hesitate Tuesday about the monumental effort it took to bring the playground to life. Phase 1 cost around $ 200,000. Phase 2 can cost even more. But nobody's morale dropped.
"There are a bunch of naysayers who say, 'It's too hard. It can't happen. You will never raise that amount of money, "said Chuck Bailey, secretary of the Maryville Lions club, before the inauguration. "They were sort of right. They forgot to say, "You will never do it without a lot of work. And the Lions worked hard to make this happen. "
Families like the Bonomo hope the park will inspire more awareness of inclusion in the community.
"It's definitely a good start," said Michael Bonomo. "It's really good that they did this and thought about it.
Public accessibility in general – in bathrooms, for example – is vital for families with diverse needs. When businesses, governments and individuals go out of their way to think through needs ranging from adult changing tables and doors to wheelchair accessible playgrounds, everyone benefits.
The playing field, the executives stressed, is a start.
"This is what happens when communities come together," said Maryville Mayor Andy White, who is also a board member for the Parks and Recreation Commission. "We should try to get more."
Follow @arjonesreports on Facebook and Twitter for more from municipal government reporter Andrew Jones.