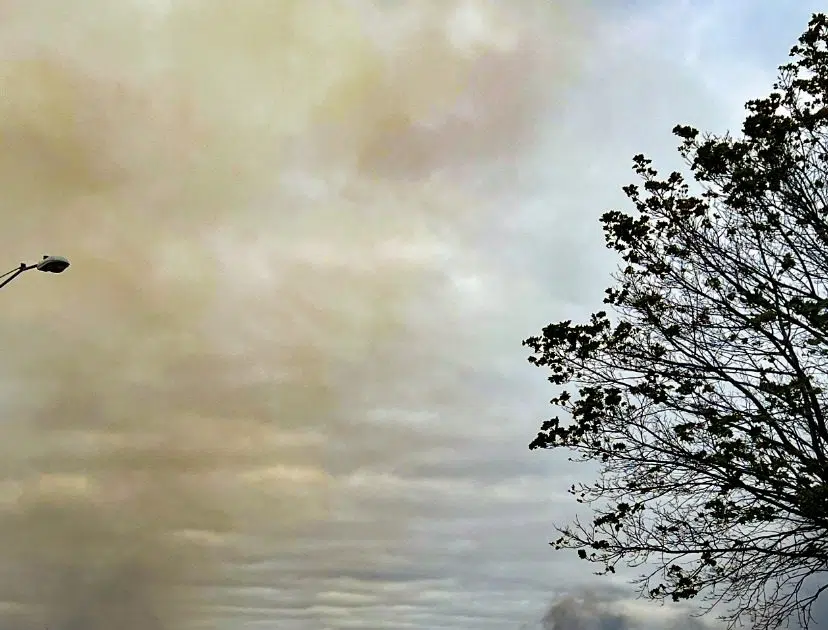 Federal, state and local authorities responding to the Menominee fire
City, state and federal officials today released an update on response activities.
New updates below in red.
This morning Michigan Governor Gretchen Whitmer declared a state of emergency for Menominee County. View the decree here.
A Frequently Asked Questions document is available for residents. If residents have questions, they can call 211 for more information.
The fire is contained and under control. Parts of the warehouse continue to burn, and fire suppression by local and regional fire departments continues.
There have been no reports of deaths or injuries related to the incident. Fire crews from multiple jurisdictions remain on scene to extinguish the blaze.
In addition to water, yesterday firefighters began using PFAS-free Class A foam at the site as a wetting agent. The two foams are: ANSUL SILV-EX PLUS Class A fire fighting foam concentrate and CHEMGUARD DIRECTATTACK Class A foam.
As fire suppression efforts continue, the active fire continues to subside.
Preparation and planning is underway for the management of fire suppression water and construction and fire-related debris.
An Incident Management Team has been requested from Michigan to help manage fire suppression operations and coordinate efforts to mitigate the incident. The application has been approved by the state and is in the process of being put together. No ETA on arrival.
The EPA is currently evaluating air monitoring data and coordinating results with local and state agencies.
The EPA continues to monitor and sample the air and will do so until the fire is out. It is anticipated that continued air monitoring will be required as site cleanup and debris removal ensues over the next several weeks.
Public health agencies are advising residents to continue to avoid smoky areas.
Dykes and levies continue to be added and improved to capture runoff. A collection basin was built for the temporary storage of runoff water.
EPA coordinates with Michigan Department of Environment, Great Lakes and Energy (EGLE) and Wisconsin Department of Natural Resources (DNR) on surface water sampling and related testing at 21 locations potential runoff from the incident site to the Menominee/Marinette Water Treatment Plants and adjacent Menominee River.
The EPA, state agencies, and local water utilities are coordinating to implement sampling to confirm there is no impact to the drinking water supply and will share the results as soon as possible. they will be available.
State and federal environmental agencies are also in communication with the warehouse's industrial tenants to determine what chemicals were present in the warehouse at the time of the fire.
The incident is being managed by a unified command structure led by the EPA.
Participating agencies in Unified Command are EGLE, Wisconsin DNR, Michigan Department of Health and Human Services (MDHHS), Wisconsin Department of Health Services (DHS), Menominee County, Marinette County, Public Health, Delta & Menominee Counties, Marinette County Public Health , the towns of Menominee and Marinette, and the industrial tenants of the warehouse.
A Joint Information Center has been established by the Unified Command to keep the public informed of continuing response activities. The JIC will send updates to the press by 3:00 p.m. CT each day of the response. For more information, please visit: https://response.epa.gov/menomineewarehousefire.