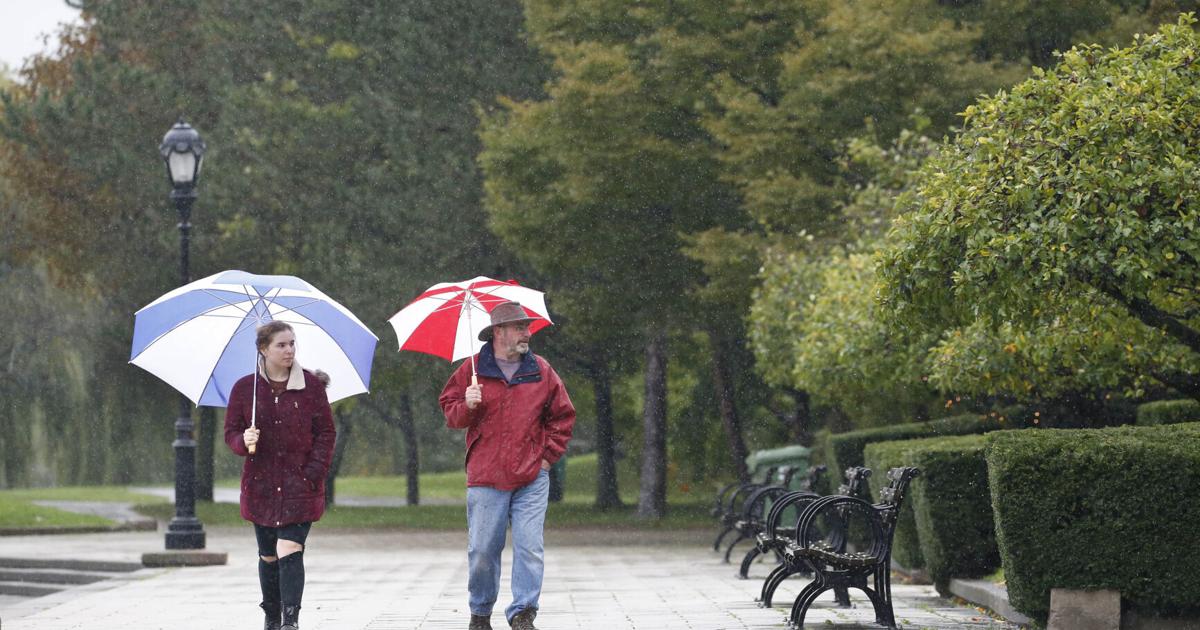 Don Paul: Weekly weather word is 'dull' | Local News
For the sake of transparency, Sunday's showers came about 6 hours earlier than predicted in my Friday post. It took what would have been a pretty decent Sunday and sent it into the tubes for most outdoor activities. Now that this matter is on my heart, we can move on to this week's weather forecast, for better or for worse.
Sunday afternoon and evening showers, along with a few thunderstorms south of Buffalo, renewed the outbreak of muddy paws in our area. Jamestown peaked at 1.06 inches of rain as amounts were heaviest in the southern portion.
Through Sunday, rainfall in Buffalo since March 1, the start of meteorological spring, has actually been below average at 1.14 inches. With wet to muddy yards and fields, that may seem hard to believe. However, as I wrote before, the mud is largely due to the lack of many good drying days consisting of windy, hot conditions with low humidity. The actual measured soil moisture deviation from normal on Saturday was very modest.
At least Monday should end a little stronger than the dismal way it started. You can follow the progress of partial clearing at the end of the day with this self-updating GOES satellite imagery link.
On the other hand, if you return to this link on Tuesday, you will be able to observe the advance of the next stormy system heading in our direction. Meanwhile, heavy cloud cover and a southwesterly flow off Lake Erie will keep temperatures below average on Monday, only in the 50s (average is 62).
The next area of ​​low pressure will bring more showers to Western New York by Tuesday afternoon, becoming more numerous by mid to late afternoon.
Before the showers, temperatures will climb slightly towards 60 degrees with a flow from the south. There should also be a few thunderstorms built into the showers late in the day. In total, Tuesday afternoon and evening precipitation will be sufficient to add to our regional mud load.
Tuesday evening showers will end Wednesday mid-morning.
Temperatures on Wednesday will be cool in the upper 50s-60s. Partial clearing will progress slowly northwest to southeast by mid to late afternoon.
Thursday is very promising, under a drying ridge of high pressure. The sunshine will be there.
The sun will bring high temperatures back to the mid 60s.
The promise will likely fade on Friday as another low pressure system moves into the Ohio Valley, with its rain shield coming in from the south.
The biggest uncertainty is how far south of us this low track is. Current indications point to the system's highest chance of rain occurring on Friday, with a diminishing chance of showers on a partly sunny Saturday. The best chance for showers on Saturday will be in the southern part, with a weak chance in the north.
Sunday looks best of all, with stronger high pressure clearing us and allowing temperatures back into the 60s, from Saturday's upper 50s.
As the ridge of high pressure moves eastward, a southeasterly flow on Monday will raise readings into the low 70s, with plenty of sunshine.
For all of our rounds of showers, we will escape major threats of severe thunderstorms and possible tornadoes beginning Monday in the Central Plains.
This is followed by a somewhat lesser threat to the Ohio Valley on Tuesday.
On Wednesday, there is again a growing threat of a major outbreak in the southern plains.
Finally, it is extraordinary that the Storm Prediction Center describes an enhanced threat (higher risk) 4 days in advance, almost never seen this far in time.
I guess not many of us trade several dark and sometimes wet days for several days of life-threatening tornadoes with flash flooding and very large hail.
Looking ahead to next week, there are early signs of a warmer pattern, as shown by the Climate Prediction Center's temperature probability outlook.
Their thinking is well supported by widespread upper air packages with warm high pressure ridges to the east and northeast not seen here recently.
Carbon dioxide on the rise again
After a global decline in carbon emissions at the heart of the pandemic due to reduced industrial activity, carbon dioxide levels are rising as more such activity returns. While methane is a more potent greenhouse gas and is also increasing, carbon dioxide remains the most important greenhouse gas due to its volume and greater longevity in the atmosphere. Carbon dioxide levels are the highest in over 800,000 years. There has been a huge spike related to human activity over the past 50 years: https://climate.nasa.gov/vital-signs/carbon-dioxide/
Carbon figures are not yet available on the impacts of global emissions related to the war in Ukraine. There have been inevitable increases in the use of fossil fuels since the start of this tragic war of aggression, and there will be more exploration and production of these fuels to fill the gaps and stem price inflation. Energy.
These emissions continue to be reflected in global temperature trends since 1884, despite a decline in solar irradiance over the same period.