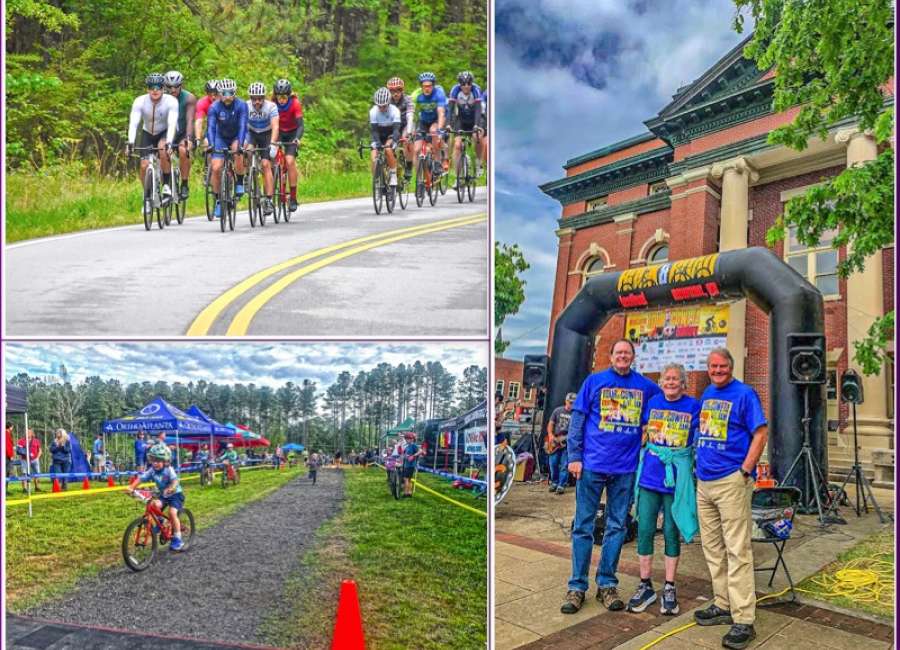 Coweta will host a rock weekend of cycling events from April 22-24
Hundreds of cyclists from several disciplines are expected to return to Coweta in April for a series of weekend events on two wheels.
Hundreds of cyclists from several disciplines are expected to return to Coweta in April for a series of weekend events on two wheels.
On April 23, the Coweta Tour benefiting the Rotary Club of Newnan will kick off the weekend from the Welcome Community Center, located at 1792 Welcome Road in western Coweta County.
The second annual ride will benefit community projects and the club's grant program.
The tour will depart from the Welcome Community Center at 8 a.m. and will include 30, 45, 66, and 100 mile routes.
Riders will enjoy many Coweta routes made popular by other century rides, including Velocity Atlanta Century, MACC One Love Century, Wilson100 and Southside Century.
Rest areas will be available in Grantville, Moreland and Haralson. Technical support will be available, as well as an after-party for cyclists on the return to Newnan.
The 'Rock and Road Festival' presented by Bike Coweta will be held on Saturday afternoon in South Court Square in Newnan town centre. The event, scheduled from noon to 6 p.m., will feature several local groups and vendors and is open to the public.
Two mountain biking events are also scheduled at Brown's Mill Historic Site.
On Saturday, riders can take part in the "Rockin' in a Squirrel World" electric mountain bike race or race traditional mountain bikes on Sunday. Both events begin at 8 a.m. and are presented by Gonuts Biking.
Riders of all ages and skill levels will compete on a 6-7 mile closed circuit, and an awards ceremony will take place at the end of the event.
The race is a family event for all ages, including races for children, juniors and adults.
Early package pickup for the Tour of Coweta and Brown's Mill events will be available at Senoia Bicycle from 1-5 p.m. Friday, followed by a reception for event sponsors and participants.
On Sunday, April 24, a Rockstar of the Weekend will be recognized at the Rockstar Awards Ceremony at 1 p.m. Cyclists can qualify for the Bike Coweta 'Rockstar' award by completing 100 miles in the Tour of Coweta on Saturday and winning their race class in the Brown's Mill event on Sunday.
The weekend of the event kicks off with the annual Ready…Set…LINC event from 4 to 8 p.m. on April 22 at the Newnan Center. The event will include food, entertainment, activities and more, and is open to the public.
"We are delighted to facilitate this renowned cycling event for our community," said Bike Coweta Board Member Chris Doane. "We accomplish our mission by promoting the health and well-being of our community and also using cycling as a means of stimulating tourism and creating local economic impact for businesses in Coweta, which demonstrates that we are truly a bike-friendly community."
For more information visit: bikecoweta.com/rockroad.