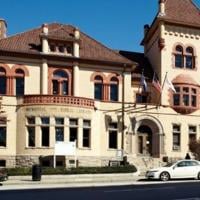 At Westerly Library & Wilcox Park: Work on yourself with our new book club | Guest columns
I'm thrilled to let you know that we've started a health and wellness book club! It's certainly a cliché to make a wish at the start of a new year: "This year, I'm really going to focus on my physical and mental health!" Let's face it, 2021 has been a tough year. It's so important that we don't put self-care on the back burner. I say it's time to set a goal for 2022 and beyond to take the time to be kind to yourself! I can say without hesitation that there is no harm in trying to achieve this particular goal.
You can join the book club to explore health and wellness topics. We will read books on a variety of topics including meditation, nutrition, self-improvement, green living, exercise, alternative healing, and happiness. The Health & Wellness Book Club is a non-judgmental space for anyone interested in sharing their experiences and knowledge about wellness with others. It's a fun and social way to explore ideas that incorporate wellness and wellness into our daily lives.
For our first meeting we talked about "The Little Book of Hygge" and "The Little Book of Lykke" by Meik Wiking. They were both easy to read to get us started and helped us get acquainted with the concepts of Hygge (Hoo-ga) and Lykke (Loo-ka). Hygge loosely translates to a feeling of comfort, togetherness and well-being. Lykke is the practice of pursuing and finding the good that exists in the world around us every day. These are two simple concepts, but not always easy to integrate into our daily lives. It was a fun time!
Keep in mind that this will be an informal exchange of ideas, so please always discuss any health concerns or changes you are considering with your doctor. There are so many books coming out every day on health and wellness, so feel free to contribute ideas for future book discussions. These can be the ones you have read and liked or the ones you would like to read. Please email me at [email protected] so you can receive the Zoom invite for our next meeting. Check our website calendar to find out what we read. We look forward to seeing you at our next meeting on Thursday, February 17 at 6 p.m.!
Most requested books
1. "The Lincoln Highway" by Amor Towles
2. "Wish You Were Here" by Jodi Picoult
3. "Apples never fall" by Liane Moriarty
4. "The Judge's List" by John Grisham
5. "Cloud Cuckoo Land" by Anthony Doerr
6. "The Dark Hours" by Michael Connelly
7. "The Maid" by Nita Prose
8. "The Last Thing He Said to Me" by Laura Dave
9. "State of Terror" by Hillary Rodham Clinton
10. "The Recovery Agent" by Janet Evanovich
Most requested DVDs
1. "No time to die"
2. "Ghostbusters: Afterlife"
3. "Dunes"
4. "The French Dispatch"
5. "The Last Duel"
6. "The Dry"
7. "Marvel's Eternals"
8. "All Creatures Great and Small: Season 2"
9. "Encanto"
10. "The Addams Family 2"
This week
TUESDAY — 1-4 p.m., Community Resource Advocate – Our volunteer Community Resource Advocate is available to help connect you with local services/resources. Email him at [email protected]; 2-3:30 p.m., Virtual Tech Social – We meet on Zoom every Tuesday to answer your technical questions. Prior registration is required; 5:30-7:30 p.m., Knit and Crochet Club – The Knit and Crochet Group meets on Zoom. Please email [email protected] for meeting details.
THURSDAY – 4-4:30pm, Teen Book Club – Join the Teen Librarian via Zoom or in person for book discussions, recommendations and creative writing tips! For the month of January, we'll read any book or graphic novel that deals with new beginnings. Pre-registration is required. Please email [email protected]brary.org at least one day in advance.
SATURDAY—10:30-11:30 a.m., Zumba in the Park and Library – Try Zumba for a fun workout! Classes are FREE and will take place on the lawn near the gazebo (weather permitting) or in the 3rd floor terrace room (in case of bad weather).
Caroline Badowski is a reference librarian at Westerly Library & Wilcox Park.