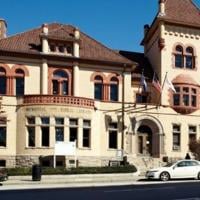 At Westerly Library & Wilcox Park: Books to get you in the Halloween mood | Guest columns
Every year my daughter enjoys watching the pumpkins grow from small green balls to large, vibrant and beautiful globes. And every year, when it's time to choose one, we turn our perfect pumpkin upside down to reveal a huge rotten spot, or an unsightly hole where an animal decided to chew from. This year, in a bizarre and unprecedented zen moment, my daughter reassured me that everything was fine, we could just burn the mark of chomp into a star. And it worked ! His ingenuity got me thinking more about pumpkins and their versatility. From decorations to drinks to desserts, there's so much you can do with a pumpkin!
If you're in the Halloween spirit, Better Homes and Gardens has a few books to help you celebrate the holiday in style and help those pumpkins reach their greatest potential. "Halloween Pumpkins & Parties" features over 100 creative ideas for decorating and entertaining. Likewise, "Halloween: 101 Scary Fun Ideas" includes step-by-step instructions and photos for crafts, games, recipes, and holiday decorating the whole family can help. You'll find something you can craft with even the most animal-ravaged gourd!
For those of you who prefer to eat their pumpkins, you won't have trouble finding a recipe at the library. "Purely Pumpkin" by Allison Day is a beautiful cookbook with savory and sweet recipes you'll crave all year round. DeeDee Stove's "The Pumpkin Cookbook" features mouth-watering recipes like Pumpkin Ravioli with Fried Sage and Pumpkin Chicken Tacos. If you don't want your priceless pumpkin wasted, check out "Cooking with Scraps" by Lindsay-Jean Hard; in addition to innovative ways to use the seeds and fibrous web, the book also includes chapters to help you get the most out of kale stalks, melon rinds, and even aquafaba (chickpea juice , basically).
Even your moldy old pumpkin has a purpose! Compost it, make it a bird feeder, feed it to the chickens, or just let those squirrels go nuts. Before you do, however, consider saving some of the seeds (and those from your other garden products!) and donating them to our seed library. If you're not sure where to start, take a look at "Saving Seeds" by Dan Jason or "Starting & Saving Seeds" by Julie Thompson-Adolf. Pumpkin seeds are easy to store, so it's a great crop to start with!
Don't forget that our Pumpkin Walk will take place in Wilcox Park on October 21 from 4-7 p.m. Come and taste cider and donuts and see how other creators have decorated their pumpkins. If you want to show off your own talents, there's still time to enter the pumpkin decorating contest! Contact me at [email protected] for details. In case of rain, this program will take place at the library.
Most requested books
1. "Lucy by the Sea" by Elizabeth Strout
2. "Our Missing Hearts" by Celeste Ng
3. "Mad Honey" by Jodi Picoult and Jennifer Finney Boylan
4. "I'm glad my mother is dead" by Jennette McCurdy
5. "It Starts With Us" by Colleen Hoover
6. "A World of Curiosities" by Louise Penny
7. "Long Shadows" by David Baldacci
8. "The Confidence Man" by Maggie Haberman
9. "Biloxi Boys" by John Grisham
10. "Going Snape" by Janet Evanovich
Most requested DVDs
1. "Top Gun: Maverick"
2. "Where the Crawdads Sing"
3. "Elvis"
4. "Bullet Train"
5. "No"
6. "The Power of the Dog"
7. "2000 Slippers"
8. "Thor: Love and Thunder"
9. "The Invitational"
10. "Highway to Heaven"
This week
MONDAY — 10 a.m. to 7:30 p.m., Crafternoon To-Go | Leaf Jar Lantern – This month we're making fall leaf lanterns out of mason jars. Pick up your kit in Reference while supplies last.
TUESDAY – 1-2pm, Tuesday afternoon Book Discussion – This month we will meet on Zoom AND in person to discuss "French Braid" by Ann Tyler. Email Caroline at [email protected] for meeting details; 1-4pm, Community Resource Advocate – Visit our volunteer Community Resource Advocate who can help connect you with local services/resources; 4-5:30 p.m., Weekly Dungeons & Dragons – A teen-led Dungeons & Dragons campaign! Registration is mandatory; 5:30-7:30 p.m., Club Tricot et Crochet – The group meets on the 2nd floor of the library; 5-6:30 p.m., Family Craft Night – Make your own batch of spooky Halloween slime! We will meet at the castle in the children's room. Registration required.
WEDNESDAY — 10 a.m. to 10:30 a.m., fall family story time for children aged 0 to 11; 2-3pm, Film Club – We'll discuss three films we selected last month and choose three to watch for our November meeting; 2-3:30 p.m., Virtual Tech Social – We meet on Zoom to answer your technical questions. Prior registration is required; 5-6pm, Pride Club – Meet other LGBTQIA2+ teens and allies while enjoying snacks, playing games and hanging out; 3:00 to 7:30 p.m., Friends Book Sale: Members-Only Evening – Sign up for Friends and get access to the exclusive Book Sale Opening Night; 6:30-7:45 p.m., Flute and piano recital – Join us in the auditorium! John Graham will play flute, with Sara Boyd on piano.
THURSDAY — 9 a.m. to 7:30 p.m., Sale of friends' books – The sale takes place on the third floor of the library; 5-7pm, Teen Crafternoon Thursdays – Join us for weekly craft activities and snacks; 5:30-7:30 p.m., Chess Club – Players of all skill levels are welcome; 6-6:30 p.m., Tween Advisory Council – Come hang out with our librarian Tween and let her know what you want to see at the library; 6:00-7:30 pm, Dante Society Lecture with Dr. Michael Seifert – Discussion will take place in the Library Auditorium on the second floor; 6:30-7:30 p.m., Learn the Irish Language – This free introductory course is perfect for beginners.
FRIDAY — 9 a.m. to 5:30 p.m., Friends' book sale – The sale takes place on the third floor of the library; 4-7 p.m. Pumpkin Walk – Don't miss our first annual Pumpkin Walk in Wilcox Park! Enjoy cider and donuts as you walk around and watch the pumpkins being decorated by the public. Vote for your favorite! Prizes are awarded for the "scariest", the "most original" and the "most artistic". Contact [email protected] to find out how to enter the contest.
SATURDAY — 9am-12pm, URI Master Gardener Kiosk – Get research-based answers to all your gardening questions; 9:00 a.m. to 3:30 p.m. Friends' Book Sale – The sale takes place on the third floor of the library; 10am-11.30am, walking tour of Wilcox Park | Native flowers and trees – The tour begins and ends on the esplanade; 10:30-11:30 a.m., Zumba in the Park – A free Zumba class at Wilcox Park; 1 to 3 p.m., Super Smash Brothers Tournament – ​​For teens in grades 7-12. Registration is mandatory.
Cassie Skobrak is the Adult Services Librarian at Westerly Library & Wilcox Park.