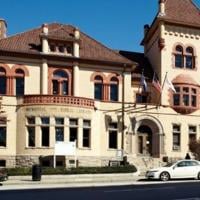 At the Westerly Library & Wilcox Park: books to satisfy all your culinary cravings | Guest columns
A few months ago, I happened to be sitting in peripheral view of a TV playing the new season of "Master Chef," the home cooking contest starring Gordon Ramsay. I had never seen the show before and honestly never really planned to watch it, but after 15 minutes I found myself unwittingly hooked…and also interested in experimenting more in the kitchen myself! Whether you yearn to be shouted down by Ramsay on national TV or just want to master a few meals your family will actually eat, we've got books here at the library to help.
When it comes to home cooking, few are more qualified to write about it than Alex Guarnaschelli; her mother, Maria, was a prolific cookbook publisher and writer for five decades, so it's safe to say she learned from the best. We have several of his books currently available, including "Old-School Comfort Food: The Way I Learned to Cook", "Cook with Me", and "The Home Cook: Recipes to Know by Heart". The latter features THE most delicious plate of spaghetti on the cover, so I would personally start there.
It seems like almost every celebrity chef has published a cookbook specifically about home cooking, but with their own personal twists. There's Bobby Flay's 'Bobby at Home', Jamie Oliver's 'Jamie at Home' and Ina Garten's 'Barefoot Contessa at home'…and while none of them won titles creative, they are full of fantastic recipes and photographs. . I'm pretty confident you'll find a similar title for any well-known chef you look up to, whether it's Martha Stewart, our pal Gordon Ramsay, or the OG herself, Julia Child.
If you have little ones at home, you can include them in the cooking process too! Picky eaters may be more likely to try (and even enjoy) the food they've helped prepare, and it's a good way to keep them out of trouble for a few minutes, assuming you have it. patience. "MasterChef Jr Cookbook" and "MasterChef Jr Bakes" are two books we have in the collection with recipes, tips and tricks to help inspire your young home cooks, and we have plenty of recipes that appeal to little ones. palettes, like "ChopChop: The Kids' Guide to Cooking Real Food With Your Family" by Sally Sampson.
I hope you find some inspiration in these titles, or at least some new must-have recipes for your weekly dinner rotation. If you're in the mood to talk cookbooks and recipes, consider joining our monthly "Cookbook Club", which is currently meeting via Zoom! The club focuses on a different cookbook each month and shares the recipes they have made from the book. Our next meeting is February 16 at 6 p.m.!
Most requested books
1. "The Lincoln Highway" by Amor Towles
2. "Wish You Were Here" by Jodi Picoult
3. "Apples never fall" by Liane Moriarty
4. "The Judge's List" by John Grisham
5. "Cloud Cuckoo Land" by Anthony Doerr
6. "The Dark Hours" by Michael Connelly
7. "The Last Thing He Said to Me" by Laura Dave
8. "State of Terror" by Hillary Rodham Clinton
9. "Mercy" by David Baldacci
10. "The Recovery Agent" by Janet Evanovich
Most requested DVDs
1. "No time to die"
2. "Dunes"
3. "The French Dispatch"
4. "Ghostbusters: Afterlife"
5. "The Last Duel"
6. "Wood"
7. "The Dry"
8. "Halloween kills"
9. "Dangerous"
10. "The Addams Family 2"
This week
MONDAY –– The library is closed for Martin Luther King Jr. Day.
TUESDAY –– 10am-7:30pm, Crafternoon To-Go – This month, we're doing bullet journals! Pick up your kit in Reference while supplies last; 1:00-4:00 p.m., Community Resource Advocate – Our volunteer Community Resource Advocate is available to help connect you with local services/resources. Email him at [email protected]; 2-3:30 p.m., Virtual Tech Social – We meet on Zoom every Tuesday to answer your technical questions. Prior registration is required; 5:30-7:30 p.m., Knit and Crochet Club – The Knit and Crochet Group meets on Zoom. Please email [email protected] for meeting details.
WEDNESDAY — 2-3 p.m., Virtual Film Club — We'll be discussing the three films we've selected over the past month and picking three to watch for our February meeting. Please email [email protected] for meeting details.
THURSDAY –– 6-7pm, Health and Wellness Reading Group – Join us on Zoom to explore health and wellness topics! For our first meeting, please read either "The Little Book of Lykke" or "The Little Book of Hygge" by Meik Wiking. Please email [email protected] for meeting details.
SATURDAY ––10:30am-11:30am, Zumba in the park and library – Try Zumba for a fun workout! Classes are FREE and will take place on the lawn near the gazebo (weather permitting) or in the 3rd floor terrace room (in case of bad weather).
Cassie Skobrak is a reference librarian at Westerly Library & Wilcox Park.