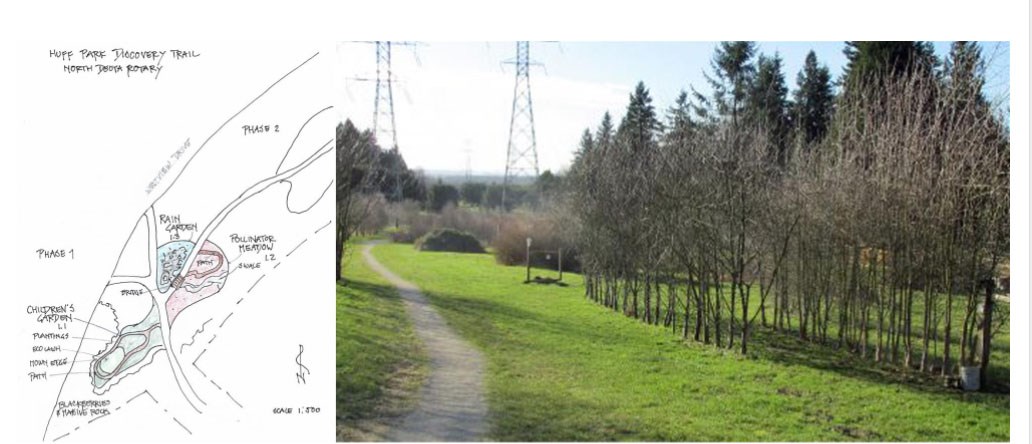 Another great project in preparation for North Delta Rotarians
The first phase of the project will include an interactive planting space and attractive signage
An interactive planting space, seating and engaging signage will soon be available at Westview Park, courtesy of the North Delta Rotary Club Children's Discovery Garden.
Approved by Delta Council on March 7, the garden site is planned at the north end of Westview Park and is intended to complement adjacent well-used trails through the Huff Hydro Corridor Reserve along Westview Dr. to the southern part of the park.
This will be the first phase of the discovery garden which, if successful, may continue in the second phase to install a pollinator meadow and a rain garden.
"The section of the park identified as the proposed site for the [project] is currently underdeveloped. There are several challenges associated with this northern end of the park," reads a Delta staff report.
According to staff, challenges include BC Hydro's overhead transmission lines and a significant level change, which has limited the installation of traditional park equipment that requires a relatively flat surface and overhead space.
This project, however, complements the current trails and provides additional functionality along the route for the enjoyment of children and adults.
Estimated at $23,000, the North Delta Rotary Club and the City of Delta will share the cost of the project.
When the Parks, Recreation and Culture Board received the proposal report on February 17, it recommended a barrier between the off-leash area's long Huff Hydro Corridor reserve and the garden, as well as the addition of seats.
Community consultation will occur through signage in the park, awareness of the proposed project through the Let's Talk About the Delta website, promotion of the project through social media, and mailing to residents within 250 meters of the site.