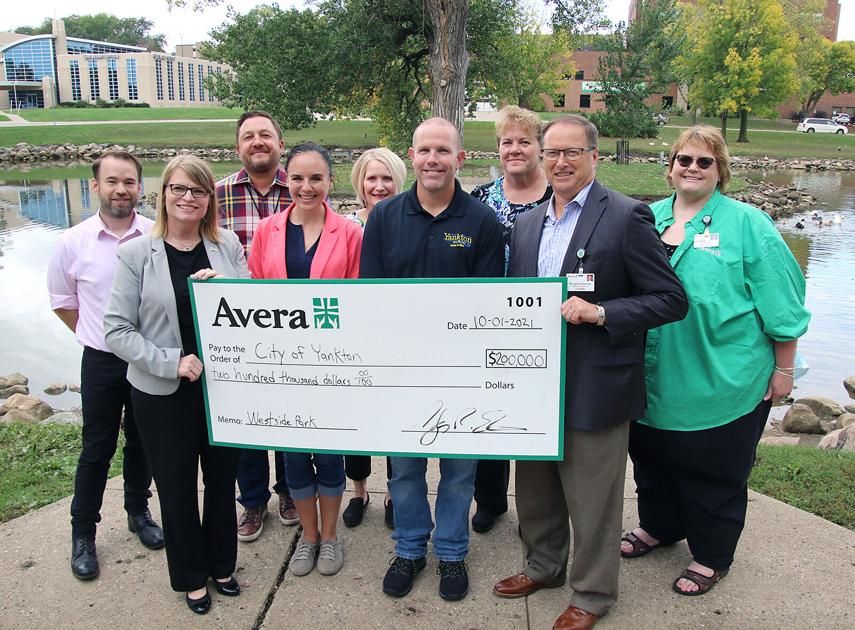 A neighborhood boost for a park plan | Community
A push to revitalize Westside Park received a huge boost on Friday thanks to a neighbor's upcoming birthday.
During a short ceremony at Westside Park, an audience of city officials, representatives from Avera and the park's resident waterfowl watched Avera Health present the Town of Yankton with a donation of $ 200,000 to help update some of the park amenities. It comes at a time when the city has started working on a master plan for the park that is expected to span the next two decades.
Doug Ekeren, regional president and CEO of Avera Sacred Heart Hospital (ASHH), said the hospital will celebrate a milestone in the coming year and officials wanted to find a way to give back to the community he calls his home.
"The 125th anniversary of the Sacré-Coeur Hospital in Avera will take place in November 2022," he said. "We were looking for a project in the community to show our thanks for the support we have had. "
With the hospital located right across from Westside Park, he said helping with its revitalization was a natural fit.
"All the kids in Yankton know this as 'The Duck Pond'," he said. "We know there's a need to rehabilitate this park a bit, so we're happy to do a donation to help (for) future users of this park. Obviously it is located outside the front door of the hospital. We know we have a lot of staff, families and visitors who use the park.… This will ensure ADA accessibility and keep the island and the park in good repair.
Ekeren said they were working with city officials to focus on replacing the bridge across the pond to the park island, addressing stability issues on the island, and revitalizing the pond. himself.
Mayor Stephanie Moser said the city was grateful for the donation to a public space that has been a big part of Yankton's history.
"This park has been an icon in Yankton for years," she said. I looked back and saw black and white photos of people standing here using this park. With a donation like this, it allows us to continue making this park available to visitors and residents of the city for years to come. "
Yankton Parks and Recreation Director Todd Larson said city officials began working with the public on a master plan for the park's future in 2019 as plans come together for the Dakota Territorial Museum begins to remove its buildings from the site.
"We attended these meetings and contributed a lot," he said. "What we heard is that people love the park the way it is, but there were a few small adjustments we could make to make it even better for people."
Some improvements have already been implemented or are in the process of materializing. Earlier this year, the Born Learning Trail was opened to park visitors, and a $ 90,000 grant from the Land Water Conservation Fund was approved for updating the park's play equipment, a project that it says Larson, will begin this fall and end next summer.
Larson said Avera's donation will help with island and pond improvements that were also part of the master plan.
"That's what the park needed because it's a struggle for the city to find public funds to make all of these improvements," he said. "This donation really helps us go a long way on this master plan."
He said work would ideally begin in the coming months with the goal of completing before the 125th anniversary of ASHH.
"We would like to start this fall and do what we can," he said. "We're always at the mercy of contractors, supplies and that sort of thing, but we're going to do everything to get the island, well, and bridge completed next summer." Avera, they can bring people here and show them what their legacy gift is here in the park.
And Avera Health's donation appears to be just the beginning of plans by private donors to help revitalize the park.
Earlier this week, the City of Yankton Commission approved a professional services agreement with Stockwell Engineers, Inc. of Yankton for a conceptual plan of Westside Park so city officials can have solid estimates for the proposed improvements. .
"Part of the vision was to have a meditative garden in the park," Larson said. "We had a private donor who took a step forward – a name that has been in the community for years and years and years – who would like to do a project and (was wondering) what the city should fund, for so to speak, so we discussed this. … The donor is interested in a sundial and a meditation garden, and that's what we were doing at Westside Park.
He said he was unsure of the timeline for the donor announcement and the amount, but that was part of the reason the city pursued the concept plan.
Meanwhile, Larson said the town has been approached by another potential donor about further improvements to Westside Park, but his department has not been contacted with further details at this time.
Follow @RobNielsenPandD on Twitter.